Parabox original wigs (3.5inch - 9inch size)
Parabox original wigs stretch to fit a wide range of sizes. They use the synthetic fiber called Toyokalon or Korean made heat resistant fiber.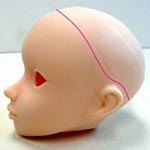 What is a wig line?
Heads have a line, called a wig line. (the red line in the picture) This line is measured for the wig size.



Putting wig on head
Reverse the wig and make it touch the crown of the head and reverse it back over the head.
PARABOX heads/Obitsu heads
3.5inch
(head size: 8.5 - 9.5cm)
◎Fairy(head size 9㎝)
○Ares(head size 9.5㎝)
◎Obitsu 27HD-F01 & F06
◎21HD-F03(head size 9.2㎝)
◎27HD-M02/M03

4inch
(head size: 9.5 - 10.5cm)
◎Petite Fairy(head size 9.5㎝)
○S-Gretel(head size 9.4㎝)
◎Gretel27(head size 9.5㎝)
○Ares (head size 9.7㎝)
◎Yuki (head size 11.5㎝)
◎Aki(head size 9.7㎝)
◎Miroku (head size 9.5㎝)
○21HD-F03
4.5inch
(head size: 10.5 - 12cm)
○S-Angela(head size 10.3㎝)
◎Kay (head size 11㎝)
◎Hikari(head size 11.5㎝)
◎Muffin/Momo(head size 11㎝)
◎Usako(head size 11㎝)
◎Henzel27 (head size 10㎝)
◎Little Ai-chan (head size 11.7㎝)
◎Obitsu 21HD-F01(head size 11㎝)
5inch
(head size: 12 - 13cm)
◎Cocco (head size 11.7㎝)
◎Chara (head size 12㎝)
◎Petite Hime (head size 12.5㎝)
7inch
(head size: 17 - 19cm)
◆Sleeping Princess(head size 19㎝)
◆Henzel/Misha (head size 19㎝)
◆Gretel47 (head size 20㎝)
◎Obitsu 50HD-F01W-E (Mizuki) (head size 18.5㎝)
◆Obitsu 50HD-F02W-E (Misuzu) (head size 19㎝)
8inch
(head size: 20 -21.5cm)
◎Gretel(head size 20.5㎝)
○Angela(head size 20㎝)
◎P-chan/Ai-chan(head size 20.5㎝)
○Sleeping Princess(head size 19㎝)
◎Laura(head size 19.5㎝)
◎Henzel/Misha (head size 19㎝)
◎Gretel47 (head size 20㎝)
◎Megu (head size 19㎝)
◎Luna(head size 19.5㎝)
◎Hime Ane (head size 21㎝)
◆Obitsu 60HD-F06W(head size 21.5㎝)
◆Obitsu 60HD-F08W(head size 21.5㎝)
◆Obitsu 55HD-M01W male head (size 21.5㎝)
○Obitsu 50HD-F02W-E (Misuzu) (head size 19㎝)
◎Obitsu 60HD-F07W-E (Haruka) (head size 20.5㎝)
9inch
(head size: 22 - 24cm)
○Obitsu 60HD-F06W
○Obitu 60HD-F08W designer head
◎Obitsu 50HD-F04W-E (Mafuyu) (head size 22㎝)
◎ perfect fit, ○ a little loose fit, ◆ a little tight fit