Iris A eyes

Iris A gray
EY-AB10A-GL
10mm Iris A gray
EY-AB12A-GL
12mm Iris A gray
EY-AB18A-GL
18mm Iris A gray
EY-AB20A-GL
20mm Iris A gray
EY-AB22A-GL
22mm Iris A gray

Iris A blue
EY-AB10A-BL
10mm Iris A blue
EY-AB12A-BL
12mm Iris A blue
EY-AB18A-BL
18mm Iris A blue
EY-AB20A-BL
20mm Iris A blue
EY-AB22A-BL
22mm Iris A blue

Iris A skyblue
EY-AB10A-SBL
10mm Iris A skyblue
EY-AB12A-SBL
12mm Iris A skyblue
EY-AB18A-SBL
18mm Iris A skyblue
EY-AB20A-SBL
20mm Iris A skyblue
EY-AB22A-SBL
22mm Iris A skyblue

Iris A green
EY-AB10A-GR
10mm Iris A green
EY-AB12A-GR
12mm Iris A green
EY-AB18A-GR
18mm Iris A green
EY-AB20A-GR
20mm Iris A green
EY-AB22A-GR
22mm Iris A green

Iris A purple
EY-AB10A-PR
10mm Iris A purple
EY-AB12A-PR
12mm Iris A purple
EY-AB18A-PR
18mm Iris A purple
EY-AB20A-PR
20mm Iris A purple
EY-AB22A-PR
22mm Iris A purple

Iris A pink
EY-AB10A-PK
10mm Iris A pink
EY-AB12A-PK
12mm Iris A pink
EY-AB18A-PK
18mm Iris A pink
EY-AB20A-PK
20mm Iris A pink
EY-AB22A-PK
22mm Iris A pink

Iris A red
EY-AB10A-RD
10mm Iris A red
EY-AB12A-RD
12mm Iris A red
EY-AB18A-RD
18mm Iris A red
EY-AB20A-RD
20mm Iris A red
EY-AB22A-RD
22mm Iris A red

Iris A brown
EY-AB10A-BR
10mm Iris A brown
EY-AB12A-BR
12mm Iris A brown
EY-AB18A-BR
18mm Iris A brown
EY-AB20A-BR
20mm Iris A brown
EY-AB22A-BR
22mm Iris A brown

Iris A yellow
EY-AB10A-YE
10mm Iris A yellow
EY-AB12A-YE
12mm Iris A yellow
EY-AB18A-YE
18mm Iris A yellow
EY-AB20A-YE
20mm Iris A yellow
EY-AB22A-YE
22mm Iris A yellow
Iris B eyes
Iris B gray
EY-AB10B-GL
10mm Iris B gray
EY-AB12B-GL
12mm Iris B gray
EY-AB18B-GL
18mm Iris B gray
EY-AB20B-GL
20mm Iris B gray
EY-AB22B-GL
22mm Iris B gray

Iris B blue
EY-AB10B-BL
10mm Iris B blue
EY-AB12B-BL
12mm Iris B blue
EY-AB18B-BL
18mm Iris B blue
EY-AB20B-BL
20mm Iris B blue
EY-AB22B-BL
22mm Iris B blue

Iris B skyblue
EY-AB10B-SBL
10mm Iris B skyblue
EY-AB12B-SBL
12mm Iris B skyblue
EY-AB18B-SBL
18mm Iris B skyblue
EY-AB20B-SBL
20mm Iris B skyblue
EY-AB22B-SBL
22mm Iris B skyblue

Iris B green
EY-AB10B-GR
10mm Iris B green
EY-AB12B-GR
12mm Iris B green
EY-AB18B-GR
18mm Iris B green
EY-AB20B-GR
20mm Iris B green
EY-AB22B-GR
22mm Iris B green

Iris B purple
EY-AB10B-PR
10mm Iris B purple
EY-AB12B-PR
12mm Iris B purple
EY-AB18B-PR
18mm Iris B purple
EY-AB20B-PR
20mm Iris B purple
EY-AB22B-PR
22mm Iris B purple

Iris B pink
EY-AB10B-PK
10mm Iris B pink
EY-AB12B-PK
12mm Iris B pink
EY-AB18B-PK
18mm Iris B pink
EY-AB20B-PK
20mm Iris B pink
EY-AB22B-PK
22mm Iris B pink

Iris B red
EY-AB10B-RD
10mm Iris B red
EY-AB12B-RD
12mm Iris B red
EY-AB18B-RD
18mm Iris B red
EY-AB20B-RD
20mm Iris B red
EY-AB22B-RD
22mm Iris B red

Iris B brown
EY-AB10B-BR
10mm Iris B brown
EY-AB12B-BR
12mm Iris B brown
EY-AB18B-BR
18mm Iris B brown
EY-AB20B-BR
20mm Iris B brown
EY-AB22B-BR
22mm Iris B brown

Iris B yellow
EY-AB10B-YE
10mm Iris B yellow
EY-AB12B-YE
12mm Iris B yellow
EY-AB18B-YE
18mm Iris B yellow
EY-AB20B-YE
20mm Iris B yellow
EY-AB22B-YE
22mm Iris B yellow
Eye sizes
Eye size represents the diameter of eye. The picture to the right has 22mm eyes, 20mm eyes, 12mm eyes, and 10mm eyes from left to right. The center part (dark part of eye) is called the "iris". The Parabox Anime Basic Eyes series have bigger iris than Parabox Realistic Eyes.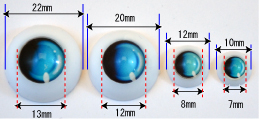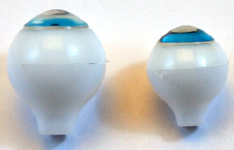 above: 20mm/22mm eyes (sold by the front portion of the eyeball)
left: 10mm/12mm eyes (sold by the whole eyeball.)
You can separate the front and back part very easily since they are not glued. (Please note that they might be separated during shipping, but they are easy to put back together.)

Please note that the eyes are made out of thin plastic so please don't handle them roughly.