11cm Petite Fairy full set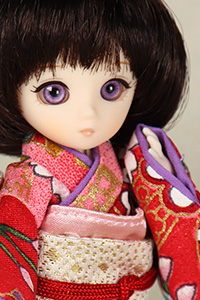 This set includes:
★11cm body - white skin
★Petite Fairy mask painted B head
★4inch bob dark brown (PW27-BOB-DB)
★Realistic eyes 8mm violet (EYREBVI-08)
★Parabox original kimono set A for 11cm body
★Obitsu tabi/zori sandals

We will accept requests to switch to the Petite Fairy A painted head for this set.
Custom Basic Sets
These sets include an Petite Fairy painted head, a body, and eyes assmbled by Parabox! You need to purchase a wig, clothes and shoes to make your own Petite Fairy full set!
Petite Fairy A head & 11cm body set
white skin



If you are going to use the Petite Fairy head with the 25cm Obitsu body, please include the neck attachment washer in your order. It's free!
for Parabox Petite head when you use the 25cm body

(No need to get the washers if you use the 11cm body.)